We're a very different kind of digital marketing firm, where solutions are always personalized to fit each client's individual needs and goals. At Moore Than SEO, our entire team is committed to delivering authentic, meaningful, and performance-driven social media & marketing services that provide our clients with a true competitive edge in their unique market space. Every solution is developed to provide a road map for sustainable, long-term growth. Excellence in quality is top of mind and creativity burns within our souls. We thrive on helping other businesses succeed and get involved to become a perfect extension of your own marketing efforts.
Moore Than SEO completes all client work in America and possesses a modest-sized staff that includes two published, professional writers. Both are well versed in business and technical copywriting, blog writing, advertising, and other specialty topics. The entire Moore Than SEO crew understands that meaningful, quality content is of critical importance. We aspire to provide solutions that deliver optimal content for client-defined audiences that truly connect and stimulate interest.
Co-Founder & Chief Marketing Officer
Shel Moore has over 21 years of experience working in both marketing communications and digital marketing. Her career has spanned across many industries and audiences - providing a comprehensive background serving consumer, business-to-business, and even government markets. Shel is passionate about the benefits of marketing and wants her company, Moore Than SEO, to become a trusted external marketing resource to businesses operating within the Clovis and Fresno, California regions, and beyond. Her diverse, hands-on experience as a marketing communications manager, strategic consultant, graphic artist, and director of content development enhance the capabilities and innovation at the core of her growing firm.
Chris Moore has made a lifelong career out of providing enhanced technical services to a wide range of clients. From complex installations of manufacturing equipment and custom integration of automation solutions, to expert advice on website and device glitches, search marketing strategies, and more recently mapping marketing strategies that work from the point of conception to final sales conversion. With over two decades of problem-solving experience, Chris provides useful solutions for today's toughest marketing challenges.
Director of Content Development
Anne Roos is the Director of Content Development for Moore Than SEO, with experience writing on a diverse range of subjects both technical and non-technical. She is a graduate of UCLA with a degree in Mathematics. Anne has applied her natural affinity for analysis to content marketing pieces that help companies gain exposure and engagement from target audiences. She is talented in writing for social media, websites, and blogs, ensuring our clients better connect with website visitors, customers, and followers. Anne is also a professional musician and the published author of two books published by Hal Leonard.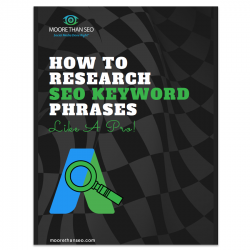 Are you interested in making improvements to your website that will result in positive Google ranking potential? The foundation of any good SEO (search engine optimization) program is built upon the best keyword phrases for your business. If you're not sure where to start, then our free guide will get you on the right path. Inside you'll learn how our